New catalogue and products for 2022
13. 1. 2022
We've prepared a new catalogue that presents our portfolio of products that are currently being produced in 2022. Our wide selection of firearms includes everything from steel and polymer pistols, a wide range of rimfire rifle models and our new range of centerfire rifles to shotguns and semi-automatic rifles and carbines. And what new products can you look forward to this year? Keep reading or look through our catalogue by clicking HERE.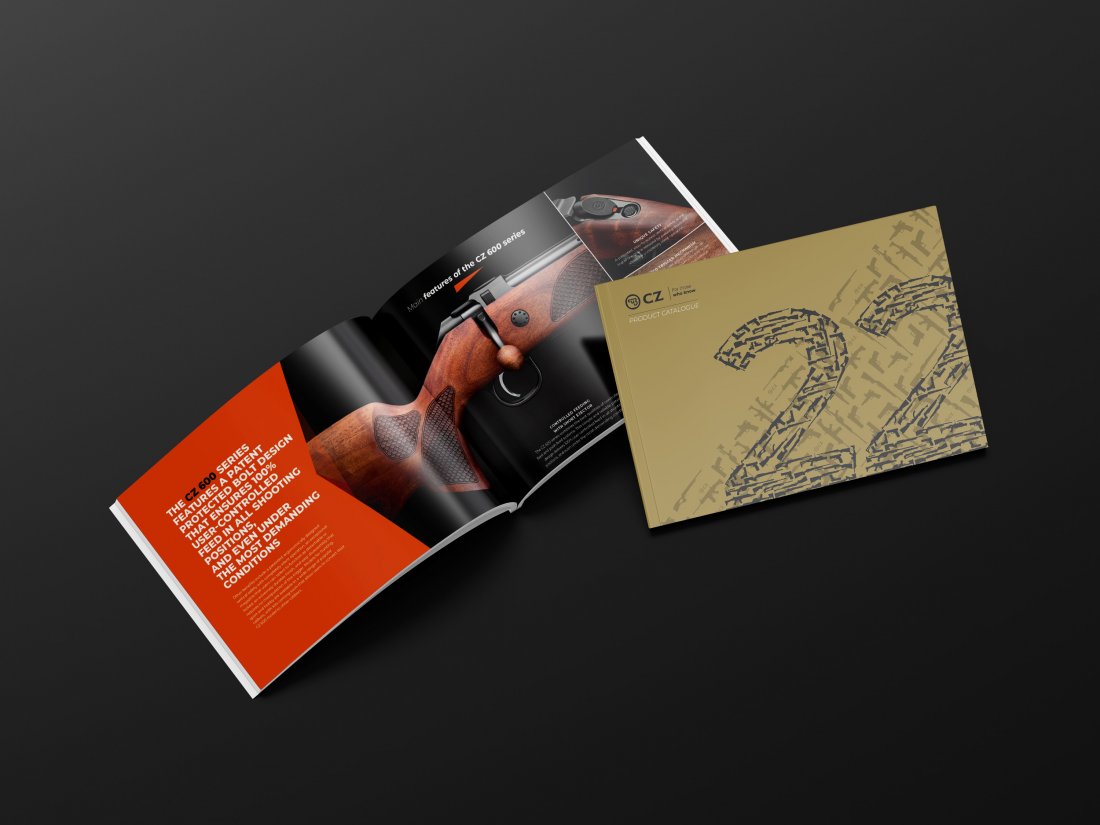 New additions to the CZ 457 rimfire rifle portfolio
The CZ 457 MDT, with an attractive duralumin chassis, is a new sport model in our offer of rimfire rifles. This version features a fluted barrel with MATCH chamber and is fitted with a compensator on the muzzle. The stock has a height adjustable cheek piece and LOP can be changed through the use of four buttpad spacers. Also included is a Picatinny mounting rail with 25 MOA inclination for easy sighting in of the scope, even at longer distances.
The Long Range Precision model has been given a new black stock and can be found under the name CZ 457 LRP BLACK in the catalogue. All features of the original model can be found in this version, i.e. impressive accuracy, length and height adjustable modular stock, and Picatinny rail. It comes with a 20" thick-walled and fluted cold hammer forged barrel with MATCH chamber and an effective cylindrical compensator mounted on the muzzle.
CZ TS 2 in 40 S&W caliber
Sport pistol fans will be pleased to know that the base model of our latest CZ TS 2 sport pistol is now available in 40 S&W caliber, in addition to the standard 9 mm caliber. The CZ TS 2 series of sport specials, which has a total of 3 models, was one of our main new releases last year. You can review its introduction by the world's best shooter, Eric Grauffel, in this video. Detailed information about this series can be found on this page.
Update on the new CZ 600 centerfire rifle series
This year marks the renewal of the CZ centerfire rifle portfolio, which we announced at the end of last year. You can look forward to models from this series gradually starting to appear on store shelves during the first few months of 2022. All five of these new models can be found in the catalogue.
For example, there's the versatile CZ 600 ALPHA model, which comes with a symmetrical, fiber-reinforced polymer stock. It's the right choice for those who value durability and reliability, regardless of inclement weather.
There is also the CZ 600 RANGE, which is a target and hunting rifle optimized for highly precise shooting at medium to long distances. It comes with a guaranteed, factory-tested accuracy of sub-0,75 MOA (five-shot accuracy using match-grade factory ammunition). The laminated wood stock is equipped with a height adjustable comb that provides increased comfort and allows each shooter to customize it to their needs.
The CZ 600 ERGO is a premium model that's instantly identifiable by its distinctive green color and ergonomic, thumbhole stock made from fiber-reinforced polymer. It comes with a light profile barrel and all gripping surfaces on the stock feature padded inlays. Stock length can be adjusted by changing out the rubber buttpad, which is available in three different sizes. This model is guaranteed to shoot sub-MOA at 100 m (three-shot groups using match-grade factory ammunition).
The CZ 600 LUX is a traditional model with a classic, European design. The select grade walnut stock features a cheekpiece on the left side and the decorative forend is made of dark brown laminated wood. The easily interchangeable barrel comes with mechanical, fiber optic front and rear sights. This model is also guaranteed to shoot sub-MOA at 100 m in three-shot groups.
The fifth model in the series is the compact CZ 600 TRAIL bolt-action rifle, which is available in the popular 223 Rem. and 7,62×39 calibers. It comes with a PDW style telescopic stock and features controls similar to those found on the CZ BREN 2 platform. This model was factory-tested for a guaranteed accuracy of 2 MOA using match-grade factory ammunition, as an extremely high level of accuracy was not a main feature of this rifle. However, we have since verified several times that the CZ 600 TRAIL achieves similar accuracy compared to other CZ 600 models.
New patented features of the CZ 600 series
In addition to high accuracy, the CZ 600 series features several new patented features that are a major departure from previous CZ centerfire rifles. All models feature controlled feeding with a short ejector, which combines the best qualities of controlled feed and push feed systems. This design delivers 100% user-controlled feed of cartridges in all gun positions, and even in the most demanding situations.
The CZ 600 series also features a patented, user-adjustable trigger mechanism with four levels of pull weight and a unique safety that ensures maximum safety, even when moving through brush. Another advantageous feature is its lockable magazine, which can be easily locked in the firearm and utilized as a fixed magazine.
The series features modularity elements that are similar to CZ 457 rimfire rifles, where the barrel and caliber can be easily changed across models (limited by stock design and size of receiver). As with other CZ products, every model comes with top quality barrels that are cold hammer forged in-house using CZ technology. Another benefit is the shortened, 60° rotation angle of the bolt handle, which allows for fast and comfortable reloading. The bolt can be safely removed without having to manipulate the trigger. The receiver, which is available in three sizes for the CZ 600 series, is highly durable with a service life of up to 20,000 shots. An integrated, aluminum Weaver rail or Remington 700 type steel mounting interface are included.
Detailed information on each of these features, as well as an overview of each model in the series, can be found here: https://cz600.czub.cz/ 
Our new catalogue can be viewed, or downloaded to your computer, at this link. 
FOR JOURNALISTS: If you're interested in receiving detailed information and photos of these new products, please contact PR & Media Manager Sarka Velcovska at velcovska@czub.cz.
The link for accessing all available materials has already been sent in our newsletter for journalists. If you haven't subscribed yet, feel free to sign up here.
Our guns and products are distributed into more than 90 countries
Dealer/Service Center Locator