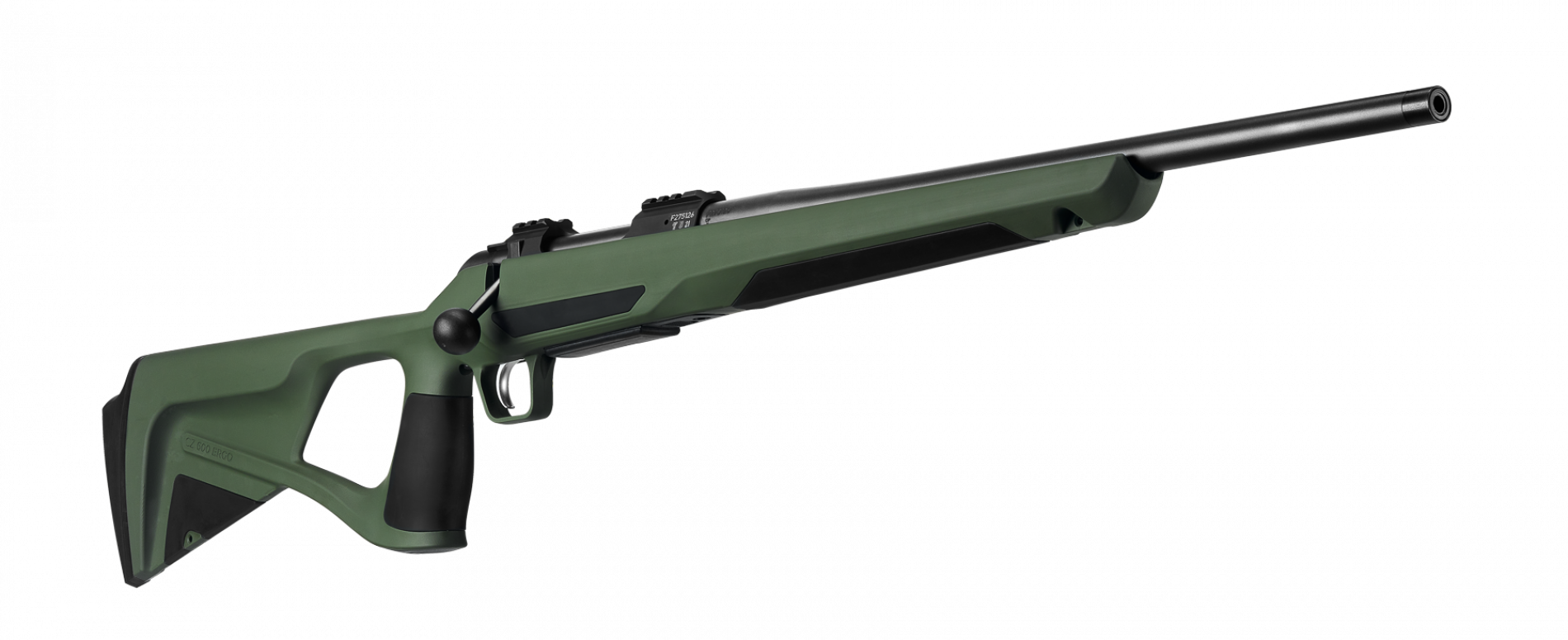 This premium model with a light profile barrel is equipped with a specially designed, fiber-reinforced polymer stock with sophisticated ergonomics, which not only provides maximum shooting comfort but also contributes to its high accuracy.
Six of the most popular calibers are offered, ranging from 223 Rem. to the 300 Win. Mag. Optics can be mounted on standardized rails that are integrated on its durable, aluminum receiver. When the magazine lock is activated, the rifle changes to a fixed magazine configuration. A simple modification to the safety mechanism for decocking operation is currently under development.
The CZ 600 ERGO model has a guaranteed, factory-tested sub-MOA at 100 meters (three-shot groups with match-grade factory ammunition).
Parameters and technical data
Length

1013 mm

Barrel length

20" / 508 mm

Barrel Profile

Light

Weight

2,6 kg

Caliber

223 Rem.

Magazine capacity

5

Sights

No

Trigger

Single-Stage, Ajustable
Cheekpiece

No

LOP

370 mm

Stock

Polymer

Stock finish

Soft-touch

Twist Rate | Number of Grooves

1:9 / 6

Thread

M15x1

Trigger Pull Weight

6-13,5 N

Upper Receiver size

I (mini)
Length

1052 mm

Barrel length

20" / 508 mm

Barrel Profile

Light

Weight

2,9 kg

Caliber

30-06 Spring.

Magazine capacity

5

Sights

No

Trigger

Single-Stage, Ajustable
Cheekpiece

No

LOP

370 mm

Stock

Polymer

Stock finish

Soft-touch

Twist Rate | Number of Grooves

1:10 / 4

Thread

M15x1

Trigger Pull Weight

6-13,5 N

Upper Receiver size

III (long)
Length

1154 mm

Barrel length

24" / 610 mm

Barrel Profile

Light

Weight

3,1 kg

Caliber

300 Win. Mag.

Magazine capacity

3

Sights

No

Trigger

Single-Stage, Ajustable
Cheekpiece

No

LOP

370 mm

Stock

Polymer

Stock finish

Soft-touch

Twist Rate | Number of Grooves

1:10 / 4

Thread

M15x1

Trigger Pull Weight

6-13,5 N

Upper Receiver size

III (long)
Length

1038 mm

Barrel length

20" / 508 mm

Barrel Profile

Light

Weight

2,9 kg

Caliber

308 Win.

Magazine capacity

5

Sights

No

Trigger

Single-Stage, Ajustable
Cheekpiece

No

LOP

370 mm

Stock

Polymer

Stock finish

Soft-touch

Twist Rate | Number of Grooves

1:10 / 4

Trigger Pull Weight

6-1 | 6-13,5 N

Upper Receiver size

II (medium)
Length

1089 mm

Barrel length

22" / 559 mm

Barrel Profile

Light

Weight

3,0 kg

Caliber

6,5 Creedmoor

Magazine capacity

5

Sights

No

Trigger

Single-Stage, Ajustable
Cheekpiece

No

LOP

370 mm

Stock

Polymer

Stock finish

Soft-touch

Twist Rate | Number of Grooves

1:7 / 4

Thread

M15x1

Trigger Pull Weight

6-13,5 N

Upper Receiver size

II (medium)
Length

1052 mm

Barrel length

20" / 508 mm

Barrel Profile

Light

Weight

2,9 kg

Caliber

8 x 57 IS

Magazine capacity

5

Sights

No

Cheekpiece

No
LOP

370 mm

Stock

Polymer

Stock finish

Soft-touch

Twist Rate | Number of Grooves

1:9,5 / 4

Thread

M15x1

Trigger Pull Weight

6-13,5 N

Upper Receiver size

III (long)
TECHNICAL DOCUMENTATION
Files to download
Our guns and products are distributed into more than 90 countries