Accompanying you boldly to the edge and back
The 5.56×45 mm NATO and 7.62×39 mm (vz. 43) CZ BREN 2 rifles are the result of a radical new approach in the design of automatic weapons. The foundation for their design is a deep understanding of the needs and requests of today's armed forces, close collaboration with end users, use of the most advanced development and design methods, application of revolutionary ergonomic models, and last but not least, utilization of the most progressive manufacturing processes and use of ultramodern hi-tech materials. 
The result is a multi-caliber weapons system with unrivalled parameters, performance and durability. The CZ BREN 2 family has been designed as an ideal combination of the best tried, tested and confirmed solutions taken to perfection. You can expect extreme accuracy, absolute reliability, user-friendly controls and excellent ergonomics. The blueprint for all CZ firearms. 
Thanks to their superb properties and high modularity, CZ BREN 2 rifles embody an ideal, comprehensive solution for all types of armed forces. They are suitable for deployment in wide range of combat operations around the world, including operations carried out by elite special forces. CZ provides complete support for CZ BREN 2 rifles, including 3D animations for armorers, spare part kits and accessories. 
The CZ BREN 2 series is designed and manufactured strictly for military use. It is intended for use with military ammunition standardized by NATO and may be specially modified according to the needs and requirements of various armed forces. In addition, all models are marked, approved and tested under Section 31 of Act no. 219/1999 Coll., on the Armed Forces of the Czech Republic, or where foreign armed forces are concerned, under the applicable laws on military material of the country in question.       
These firearms cannot be purchased for civilian purposes. For additional information, it is necessary to provide documentation proving that the person in question is authorized to handle military material within the conditions of applicable legislation.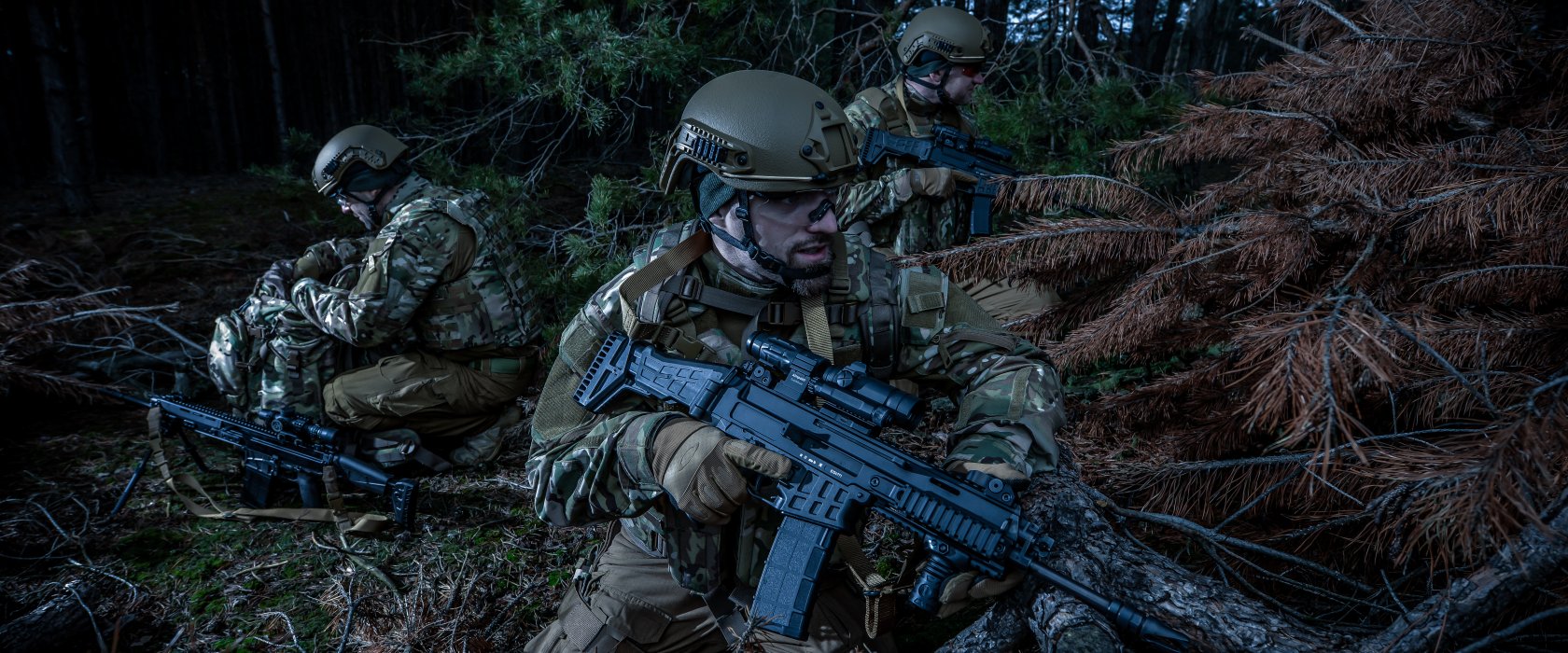 Main features CZ BREN 2 Series
Durable and lightweight upper receiver
The highly precise upper receiver is cut from a single block of aerospace-grade 7075 T6 aluminum alloy and provided with an extremely durable, corrosion-resistant finish. The improved design of the lightweight CZ Bren 2 upper receiver contributes to a significantly lighter carry weight than previous models.
Folding/Extendable shoulder stock
The highly durable shoulder stock is made with high-tech carbon fiber-reinforced polymer and is adjustable in length, which allows you to achieve the optimal shooting position based on your body constitution or tactical equipment. Even with a folded stock, the trigger is conveniently accessible.
Rubber butt pad
The rubber butt ensures maximum shooting comfort, stable and accurate aiming, and absorption of recoil.
Ambidextrous and adjustable controls
Ambidextrous and adjustable controls allow handling from either side of the firearm and according to individual preferences. The bolt catch/release is located on the left side of the firearm and inside of the trigger guard.
Three-stage gas tube regulator
Reliable function is ensured in all conditions and even when the firearm is dirty. The third position of the regulator seals off the gas port, e.g. when using a suppressor.
Four MIL-STD-1913 mounting rails
Features four rails for mounting an extensive range of optics and accessories, such as red dot sights, flashlights, laser pointers, front hand guards and more.
Pistol grip with replaceable backstrap and storage space
Ergonomically shaped grip with replaceable backstraps (S, M, L) for adjusting grip and finger reach, as well as storage space for red dot sight batteries and other accessories. Aggressive checkering ensures a reliable grip, even while wearing gloves.
Spiral three-arm flash hider
A spiral three-arm flash hider allows for easy attachment of a suppressor with a ROTEX-V clamping interface. The special spiral design of the arms ensures self-tightening after every shot.
Adjustable non-reciprocating charging handle
The charging handle increases stability and is forward positioned close to your hand for faster and more convenient use. It is also swappable from side-to-side for right- and left-handed shooters.
| | Barrel length | Caliber | Magazine capacity | Weight without magazine | Height with folded sights, no magazine | Thread | Overall length with folded/unfolded-extended stock | Width with unfolded/folded stock | NSN | Receiver |
| --- | --- | --- | --- | --- | --- | --- | --- | --- | --- | --- |
| New | 207 mm ± 1 (8") | 5,56×45 NATO | 30 | 3,08 ± 0 (kg) kg | 202 ± 5 mm | M14×1 LH | 560/560-740 ± 10 (mm) mm | 80 ± 5 (mm) mm | | 7075 T6 Aluminum alloy |
| | 407 mm ± 1 (16") | 7,62×51 NATO (1:11) | 25 | 3,77 ± 0,05 kg | 210 ± 5 mm | M15×1 | 735/925-995±10 mm | 80/110± 5 mm | 1005-16-007-6053 | 7075 T6 Aluminum alloy |
| | 207 mm ± 1 (8") | 5,56×45 NATO | 30 | 2,89 ± 0,05 kg | 202 ± 5 mm | | 505/684-733±10 mm | 80/104± 5 mm | | 7075 T6 Aluminum alloy |
| | 280 mm ± 1 11") | 5,56×45 NATO (1:7) | 30 | 2,98 ± 0,05 kg | 202 ± 5 mm | M14×1 LH | 577/762-807±10 mm | 80/104± 5 mm | 1005-16-008-2785 | 7075 T6 Aluminum alloy |
| | 357 mm ± 1 (14") | 5,56×45 NATO (1:7) | 30 | 3,10 ± 0,05 kg | 202 ± 5 mm | M14×1 LH | 657/840-884±10 mm | 80/104± 5 mm | 1005-16-008-2787 | 7075 T6 Aluminum alloy |
| New | 227 mm ± 1 (9") | 7,62×39 (1:9,45) | 30 | 3,03 ± 0 (kg) kg | 202 ± 5 (mm) mm | M14×1 LH | 580/580-760 ± 10 (mm) mm | 80 ± 5 (mm) mm | | 7075 T6 Aluminum alloy |
| | 227 mm ± 1 (9") | 7,62×39 (1:9,45) | 30 | 2,84 ± 0,05 kg | 202 ± 5 mm | M14×1 LH | 525/706-753±10 mm | 80/104± 5 mm | | 7075 T6 Aluminum alloy |
| | 280 mm ± 1 (11") | 7,62×39 (1:9,45) | 30 | 2,89 ± 0,05 kg | 202 ± 5 mm | M14×1 LH | 577/762-807±10 mm | 80/104± 5 mm | | 7075 T6 Aluminum alloy |
| | 357 mm ± 1 (14") | 7,62×39 (1:9,45) | 30 | 3,00 ± 0,05 kg | 202 ± 5 mm | M14×1 LH | 657/840-884±10 mm | 80/104± 5 mm | | 7075 T6 Aluminum alloy |
User testimonials
This product has no testimonials yet
Our guns and products are distributed into more than 90 countries