CZ Configurator now available in Poland
17. 9. 2020
The CZ configurator, which allows for the online assembly of your dream firearm, has been launched in Poland! This unrivaled online tool for the sale of firearms is currently available in the Czech Republic, Slovakia and now in Poland.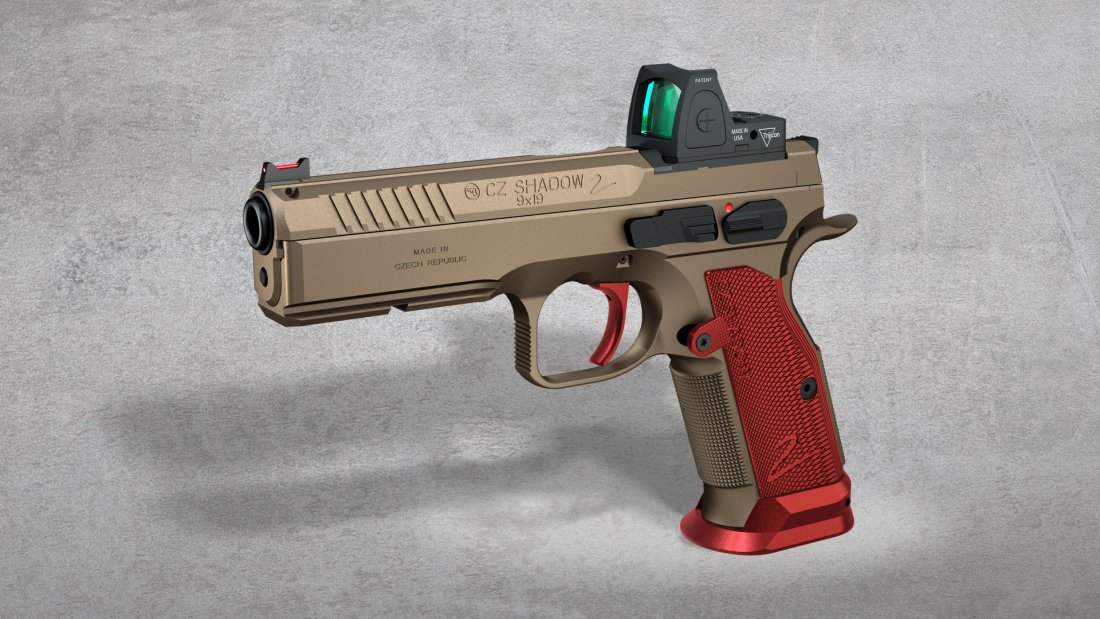 CZ offers an interactive website where you can assemble a firearm according to your creative ideas and needs. For example, you can choose the color of the frame, the type of sights, an optical collimator, the size and color of the controls, magazine capacity and more.
After placing a binding order through the Configurator, the firearm you've configured will be assembled by CZ experts and then sent to the official CZ distributor in Poland, where you can then pick up the firearm of your dreams. When handing over the firearm in person, all legislative requirements are observed as with the normal purchase of a weapon.
Where can I configure my firearm?
Visit czconfigurator.com, select your language and country, and start the configuration process. If ordering from the Configurator is not yet available in your country, you can still try out the international English version of the website.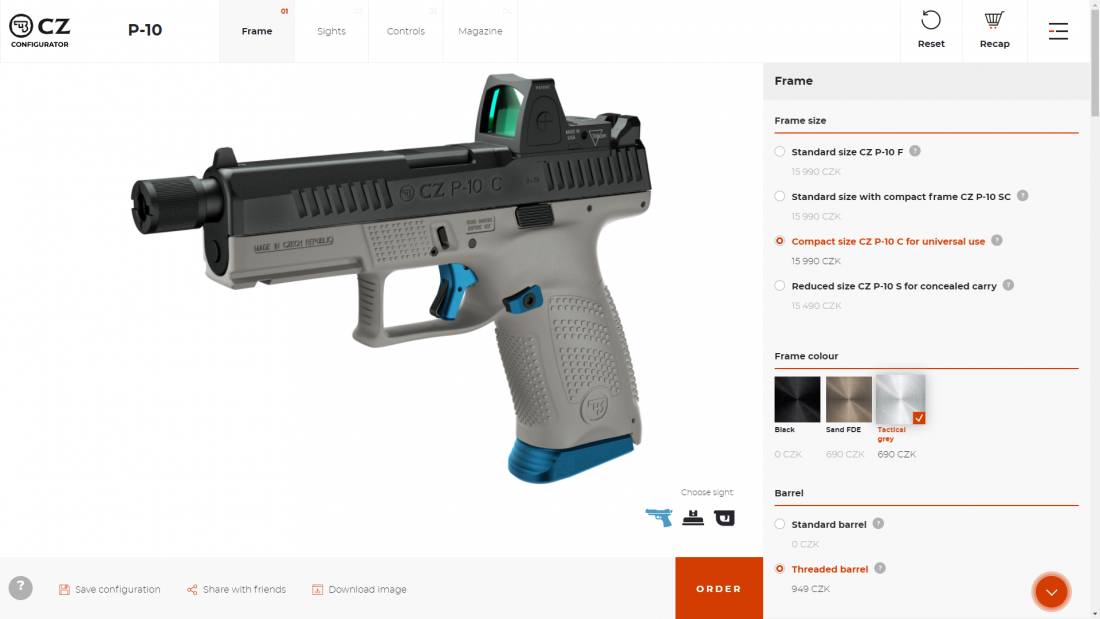 What firearms can I configure? What can I improve on them?
In Poland, it is now possible to configure the CZ Shadow 2 sport pistol and the CZ P-10 series pistols from Full-size to Semi-compact, Compact and Subcompact. Additional models will be added in the future. Although configuration options vary, and depend on the model, they are very similar across all regions. Slight differences in options are due to the specific laws or regulations of each country.
How much does the configured firearm cost?
Prices of basic models correspond to retail prices of a standard purchase. The total cost of the configured firearm depends on the components and accessories you select. In addition to an explanation of why to choose each component or accessory, the price is also shown, which is then added to the price of the firearm as you make each selection. Therefore, you are constantly aware of the evolving price as you go through the configuration process.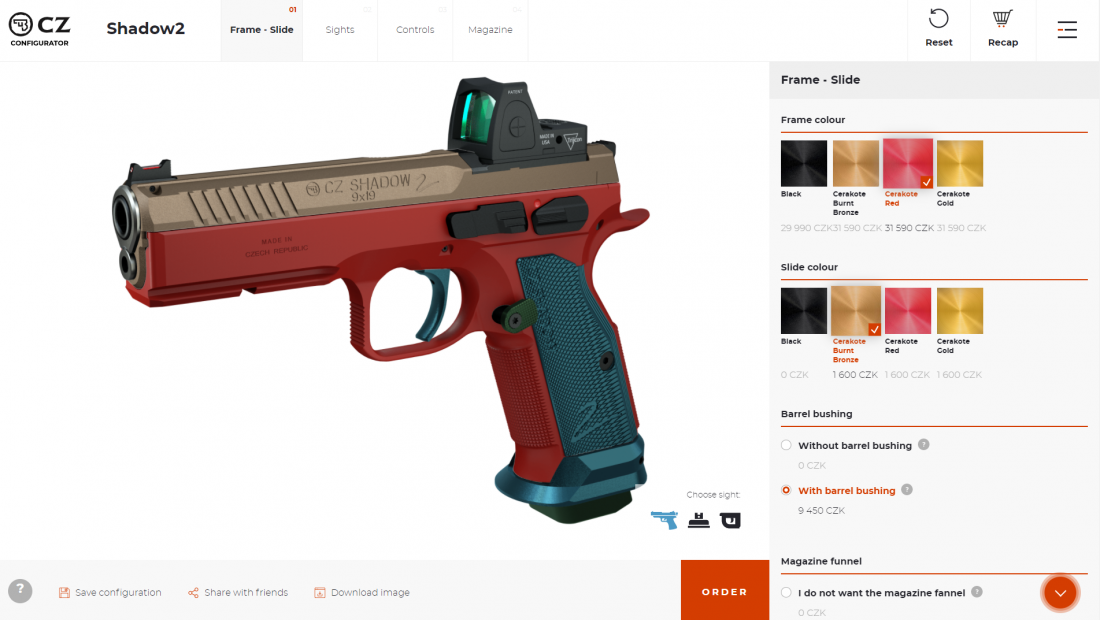 What is the warranty of the configured firearm?
The configured firearm, including all components and accessories, is covered by the same warranty as with a normal purchase, i.e. 2 years. This is a big advantage compared to if you would buy a firearm separately, add components/accessories yourself afterwards and then damage the weapon due to improper handling - in this case, no warranty claim could be made. To ensure the warranty remains valid and in place, we always recommend professional installation of components and accessories at a gunsmith or using the Configurator to customize and equip your gun. After pressing the Order button, you can also purchase an extended warranty or a five-year prepaid service for your new firearm.
How is payment made?
Payment is made in two steps. You first need to pay a deposit so your order can be considered binding and work can begin on your firearm. The amount of the deposit will be shown after confirming your order. It is possible to pay by card online or by bank transfer. The second step is to pay the remaining balance when you personally pick up your configured firearm.
Where can I pick up my custom firearm?
After completing your order, the pickup point will be displayed with the exact address. In Poland, it is currently the store of our official distributor in Poland - Hubertus in the city of Chodziec.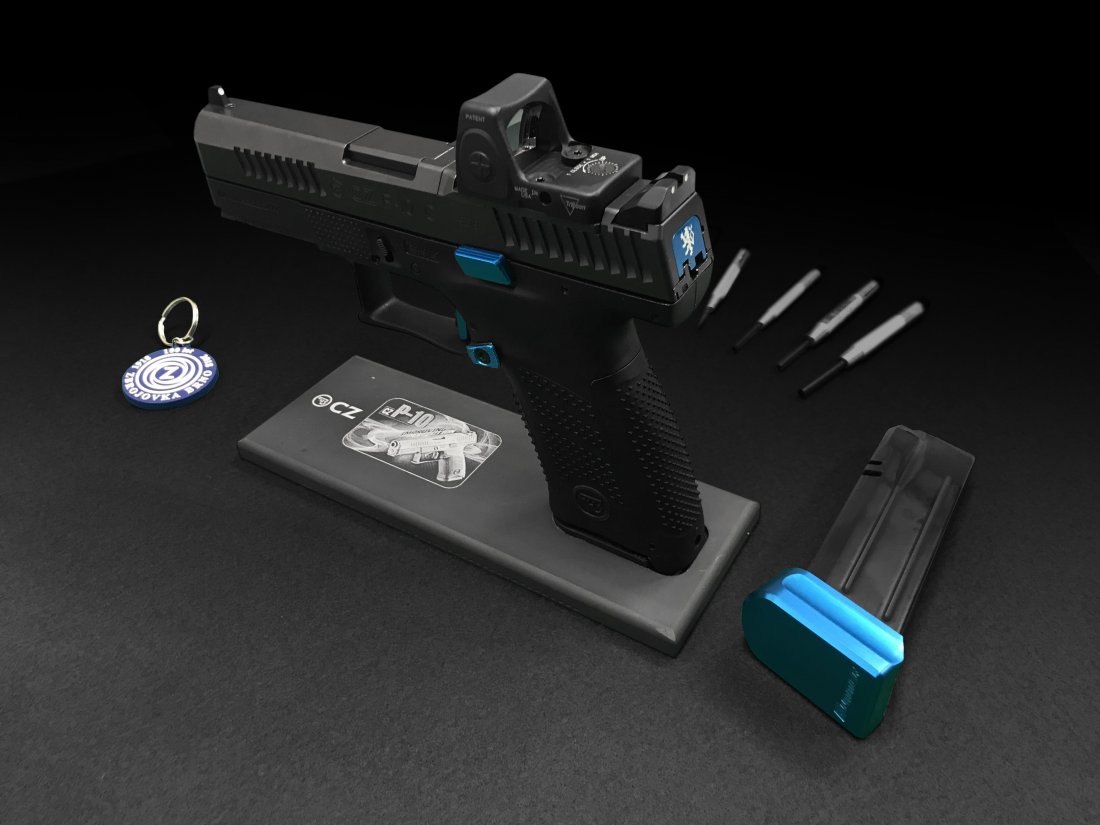 What if I don't want to order the configured firearm right away?
You can save your configuration and have it sent to your e-mail. You can then return to the configuration page at any time and continue with configuration or order your new firearm for production. You can also share your configuration with friends via a link or social networks. You can even save images of your new firearm on your computer in PNG format.
How does a gift account work?
The CZ Configurator allows your family or friends to make financial contributions to your configured firearm as a gift. All you have to do is create a Gift Account with one click and let your friends know about it by sharing the link. You are not required to pay anything for setting up this account. Once you have at least a third of the amount accumulated in your gift account, you can order the firearm to be produced.
Put something under your Christmas tree this year that will be far more exciting than a pair of socks - a new beauty that comes straight out of your dreams!
Our guns and products are distributed into more than 90 countries
Dealer/Service Center Locator