CZ celebrates its 85th anniversary
28. 7. 2021
Ceska zbrojovka, the largest manufacturer of small arms in the Czech Republic and one of the most important arms companies in the world, will celebrate 85 years since its founding in 2021. To mark this occasion, it will release two CZ limited anniversary edition firearms.
Construction of a small arms factory in the Moravian town of Uhersky Brod began in mid-summer 1936 as part of a large-scale transfer of Czechoslovak strategic production capacities to the eastern regions of the country. At the time, it was just one of many projects that Czechoslovakia was working on in preparation for war with Nazi Germany. As it was one of the smallest projects, implementation proceeded quickly, with the new factory starting operations at the beginning of 1937. It has long been known that this event was not only one of the important milestones in the development of Ceska zbrovjovka, but also an important event for the world's arms industry.
Originally a small state run enterprise that was established as a branch factory of the armory in the Czech city of Strakonice, which was located in South Bohemia, it was given the task of producing machine guns for airplanes. Soon afterwards, it experienced dynamic growth due to its secure position in the market. Following the end of 1948, it gradually concentrated its activities on the production of small arms in the then country of Czechoslovakia. By the 1950s, the small arms factory in Uhersky Brod had already become a key supplier to domestic armed forces, with its firearms also exported in large numbers to commercial markets all over the world. Many of its products at that time could be described as legends: the vz. 58 and vz. 61 Skorpion submachine guns, Slavia air rifles and "alarm guns", CZ vz. 50/70 and CZ 75 pistols, ZKM rimfire rifles and ZKK centerfire rifles.
Today's Ceska zbrojovka Uhersky Brod was founded in 1992, and due to its increased focus on export, managed to overcome the difficult 1990s and prepare for further development at the beginning of the new millennium. After 2006, under the ownership of a Czech majority shareholder, it quickly transformed into a modern and highly efficient company with a radically updated portfolio. The new generation of CZ firearms received an enthusiastic reception from its customers and Ceska zbrojovka was definitively placed among the elite manufacturers in its field. One of its greatest achievements was a return to the ranks of automatic firearm suppliers to Czech and international armed forces.
From its current portfolio of firearms, we would like to highlight the "striker fired" CZ P-10 series pistols, modern models of the timeless CZ 75 (including the successful CZ SHADOW 2 sport pistol), modular CZ 457 series rimfire rifles, CZ SCORPION EVO 3 A1 submachine guns, and CZ BREN 2 assault and battle rifles (semi-automatic models are also available for the commercial market). Regarding CZ centerfire rifles, a major next generation update is being prepared for release in 2021.
In 2018, Ceska zbrojovka became part of the international holding group CZG - Ceska zbrojovka Group SE, which aims to become a world leader in the production of small arms and to achieve sales of one billion euros by the end of 2025. An important step towards this goal was the recent acquisition of the famous American company Colt. Even after this major expansion, Ceska zbrojovka remains the largest manufacturer in the CZG Group, with its products exported to almost 100 countries around the world. Its strong position on the market contributed to impressive financial results in 2020 that set new records (CZG achieved sales of CZK 6.82 billion, EBITDA rose to CZK 1.47 billion, and operating profit achieved CZK 1.1 billion), despite the restrictions that resulted from the COVID-19 pandemic. The first two quarters of 2021 were also very promising.
To mark its important anniversary this year, Ceska zbrojovka will release two exclusive, limited editions of successful CZ firearm models: 2,000 CZ 557 85th Anniversary rifles and 2,000 CZ 75 SP-01 Shadow 85th Anniversary pistols. Both editions retain all advantages of these modern legends, with the bonus of special touches that commemorate the company's 85th anniversary.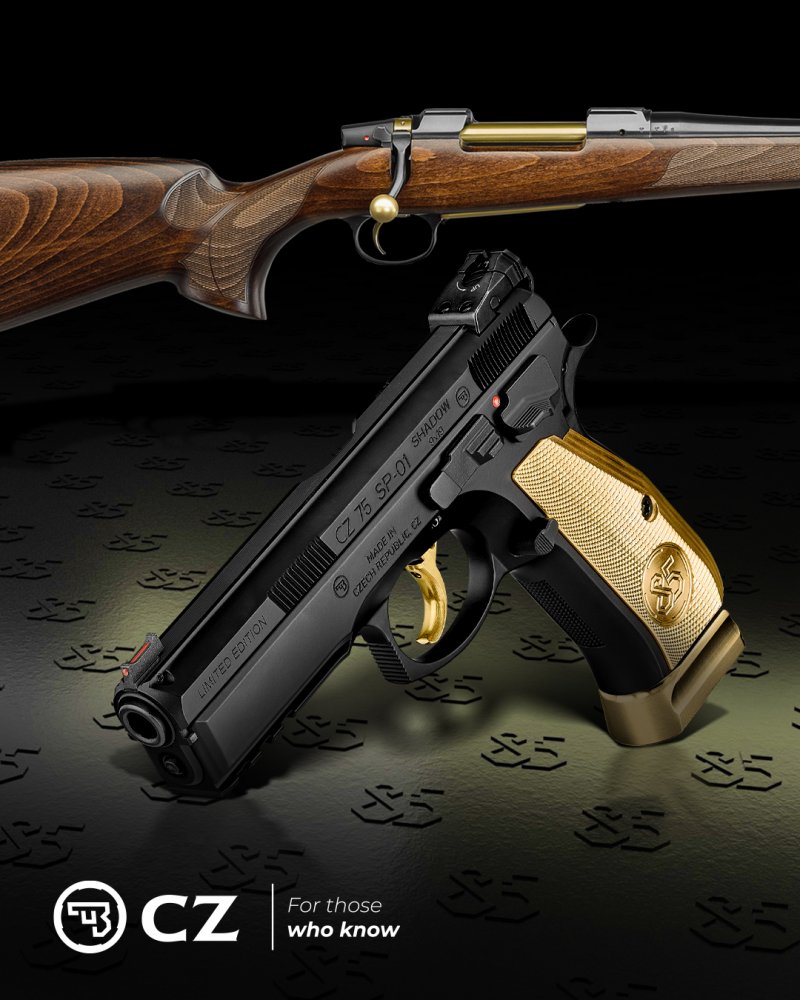 Our guns and products are distributed into more than 90 countries