CZ at IWA OutdoorClassics 2023 – Exciting new products, three world champions, a press conference and overwhelming interest from visitors
9. 3. 2023
The internationally renowned IWA OutdoorClassics exhibition, which focuses on hunting and sport shooting, outdoor equipment and related products, took place from 2nd to 5th March 2023 in Nuremberg, Germany. In keeping with its tradition each year, Ceska zbrojovka (CZ) had a stand where a cross-section of firearms from its current portfolio was presented, which included several new and exciting products.

The main product on display, which dominated the graphics at the CZ stand, was the new CZ TS 2 ORANGE sport special. Chambered in 9 × 19 and 40 S&W, the CZ TS 2 is primarily designed for competing in the IPSC STANDARD division. The fundamental difference between this new model and other existing models in the CZ TS 2 series, as well as all other pistols from CZ, is its heavy polished bull barrel. This new barrel contributes to higher accuracy, smoother handling when shooting, maximum accuracy when firing fast, repetitive shots and an increased service life. The CZ TS 2 ORANGE had an extremely impressive debut at the 2022 IPSC Handgun World Shoot, where Kahlil Adrian Viray, a Filipino member of the CZ Shooting Team, used this model to win three gold medals in the STANDARD division – Overall category, Junior category and as a member of the Filipino men's team.

A welcomed addition to the long gun segment in 2023 is the CZ 457 VARMINT SYNTHETIC rimfire rifle, whose creation was a result of customer demand. It combines the main advantages of two existing models in this successful series – the CZ 457 VARMINT and the CZ 457 SYNTHETIC – resulting in a very accurate 22 LR or 17 HMR caliber firearm with increased resistance to adverse weather conditions. It's a great choice for sport shooting and hunting at medium to longer distances.

In 2023, the 22 LR caliber CZ SCORPION EVO 3 S1 and CZ SCORPION EVO 3 S1 CARBINE models will be added to the CZ portfolio. These two new additions to the internationally popular family of semi-automatic firearms in the pistol caliber category retain all of the main benefits found in the CZ SCORPION EVO 3 series, plus the added advantages of minimal recoil, partially reduced weight and virtually zero bore wear. With these firearms in hand, experienced shooters can fully concentrate on achieving the most accurate shots possible, while beginners can more easily and quickly learn how to properly handle them.

In addition to the cross-section of CZ firearms presented at IWA OutdoorClassics 2023, a selection of revolvers and pistols from CZ's new sister brand Colt were also on display.

Apart from the firearms themselves, visitors who came to the CZ stand could also meet and speak with CZ Product Managers and CZ Presenters. And as an added bonus, visitors were treated to three special guests who were also at the stand – three current world champions from the recent 2022 IPSC Handgun World Shoot in Thailand and members of the CZ Shooting Team: Eric Grauffel (9-time World Champion), Ljubisa Momcilovic and Kahlil Adrian Viray (3-time World Champion). These phenomenal shooters were happy to speak with visitors, answer their questions and give autographs to their fans.

The CZ stand also featured an interactive area where visitors could use their imagination to "build" a firearm in accordance with their wants and needs using the CZ Configurator. In fact, customers can configure their own dream firearm in the exact same way in a total of seven countries: Czech Republic, Slovakia, Austria, France, Germany, Poland and the USA. Since 1st March, the CZ Configurator now offers the CZ BREN 2 Ms semi-automatic rifle as one of the models that can be configured online. If you would like to try out the CZ Configurator, just visit www.czconfigurator.cz. No matter where you live in the world, you can test the CZ Configurator yourself at this international website address.

On the first day of IWA OutdoorClassics 2023, CZ held a press conference for professional journalists, which was opened by CZ Sales Director Petr Pistelak. Afterwards, Eric Grauffel introduced the new CZ TS 2 ORANGE sport special, spoke about the main benefits of the CZ SHADOW 2 ORANGE pistol, with which he won his ninth world championship title at the 2022 IPSC Handgun World Shoot, talked about the ongoing cooperation between CZ and the IPSC, and shared a few updates about the new, and already successful, EG-CZ Academy – a new multifunctional sport shooting facility in France that's a joint project between Eric and CZ. Product Manager Ondrej Supka then introduced new models in the long gun portfolio, which consisted of new calibers for models in the CZ 600 centerfire rifle series and the new CZ 457 VARMINT SYNTHETIC rimfire rifle. He was followed by Product Manager Jakub Mahdal, who gave a presentation about the new 22 LR caliber CZ SCORPION EVO 3 S1 and CZ SCORPION EVO 3 S1 CARBINE models. The conference was then closed by Jan Gibek, Head of CZ Cyber Sales, who presented the CZ Configurator.

This year's IWA OutdoorClassics exhibition was attended by 34,000 visitors from 119 countries, who had the opportunity to see and visit the stands of close to 1,100 exhibitors in a total of nine exhibition halls. The CZ stand received a lot of attention during the four day exhibition and was constantly filled with visitors from the professional public. We're extremely happy that such interest was shown in our stand and greatly appreciate the opportunity we were given to meet our customers and supporters in person.

CZ is already looking forward to the upcoming 50th edition of IWA OutdoorClassics, which will take place at the Nuremberg Exhibition Centre from 29th February to 3rd March 2024.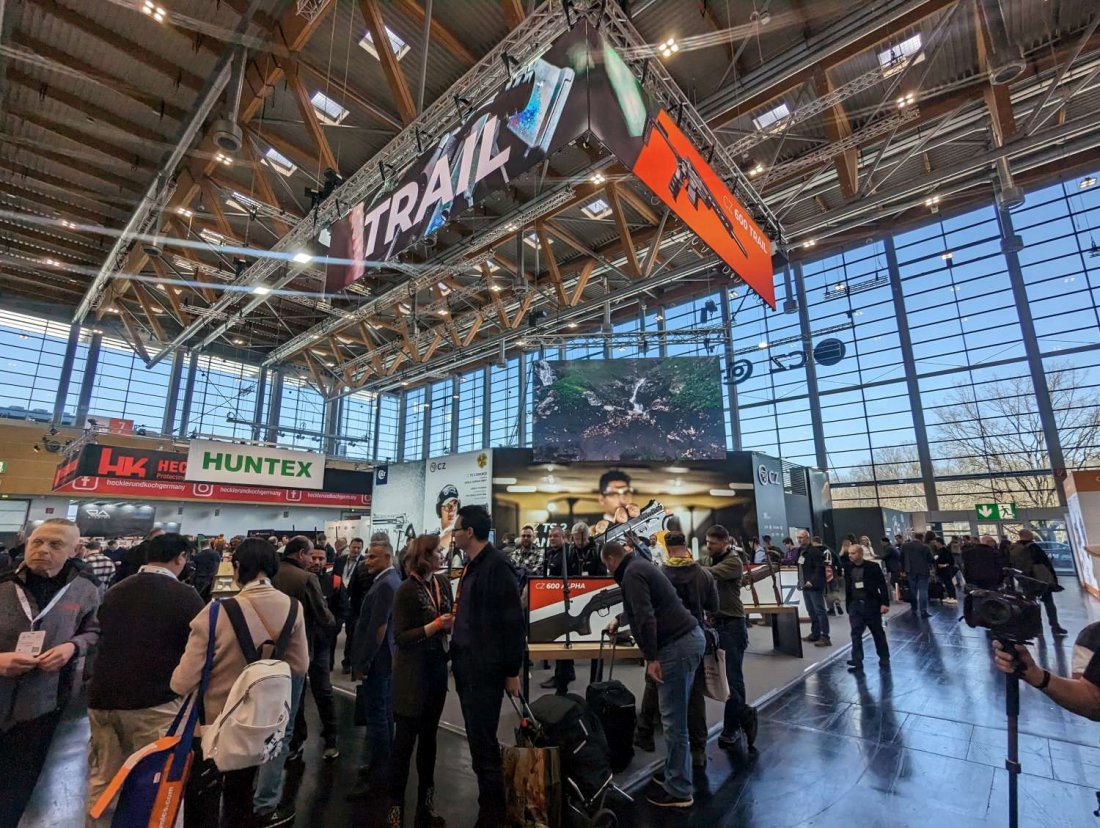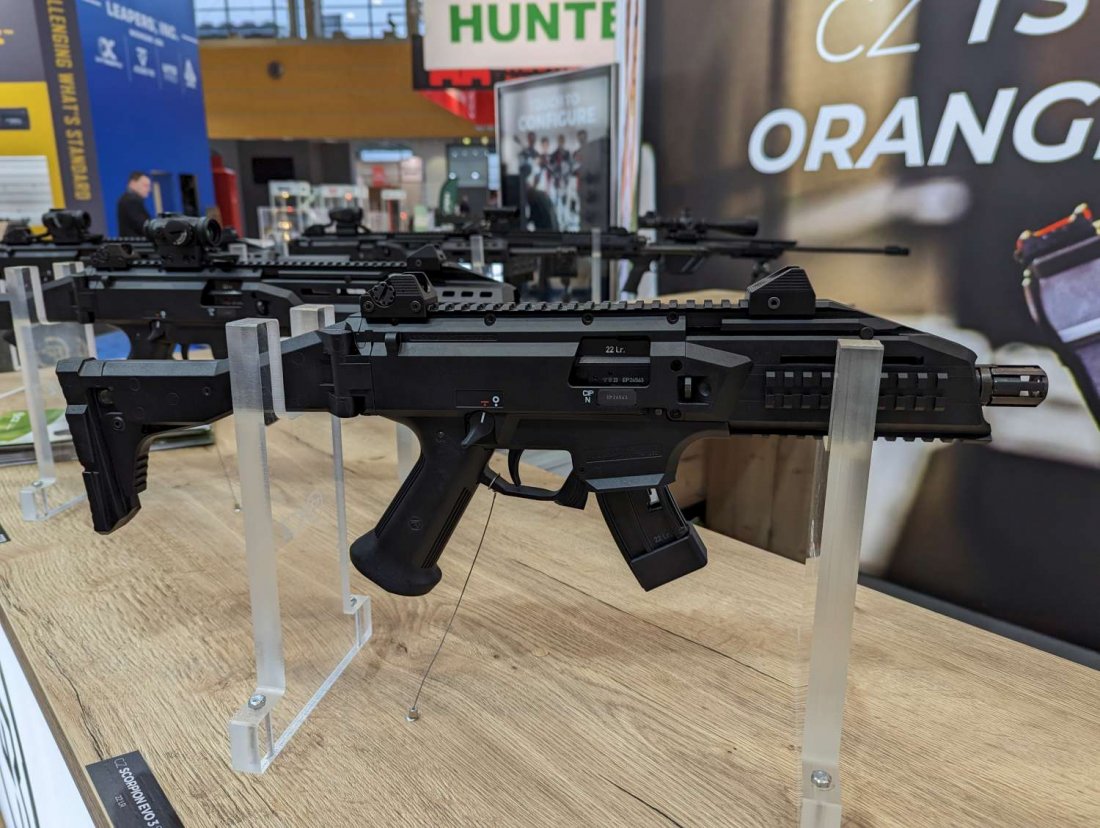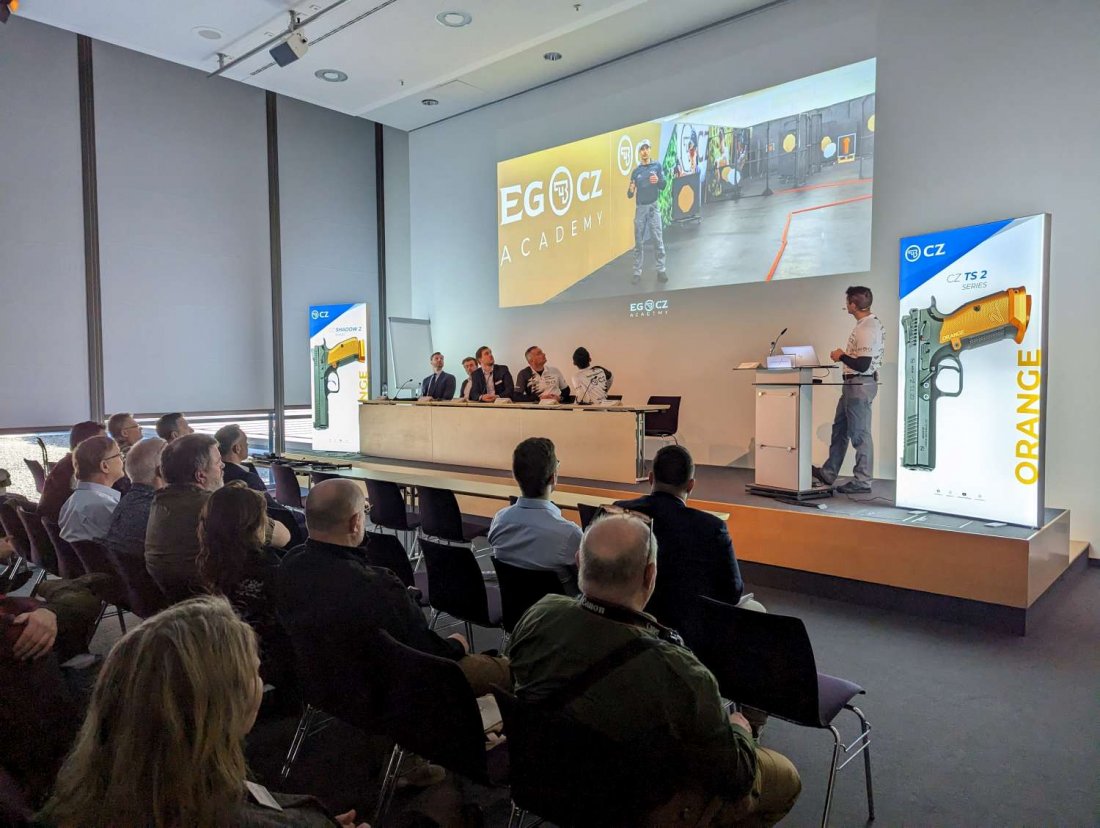 Our guns and products are distributed into more than 90 countries