CZ 600 – A new centerfire rifle series for hunting, sport and hobby
15. 11. 2021
Ceska zbrojovka, which is part of CZG Holding – Ceska zbrojovka Group and ranks among the world's largest manufacturers of small arms, has announced the launch of a brand new series of bolt-action centerfire rifles under the CZ brand.
Since the 1960s, Ceska zbrojovka (headquartered in Uhersky Brod) has been among the global elite in the long firearm segment for hunting, sport and hobby. Many of its products are legendary: the ZKK 600 series, which was replaced by the CZ 550 and CZ 557 series', as well as the light Hornet and Fox centerfire rifles that were followed by the popular CZ 527 series.
In the case of the CZ 600 series, Ceska zbrojovka has used a completely new, modular solution with a number of original design elements, as well as the latest manufacturing materials and technologies. And their courage to try a radically different concept has paid off handsomely. The result is improvements in all key features - from reliability and durability to ergonomics and shooting comfort to safety and accuracy.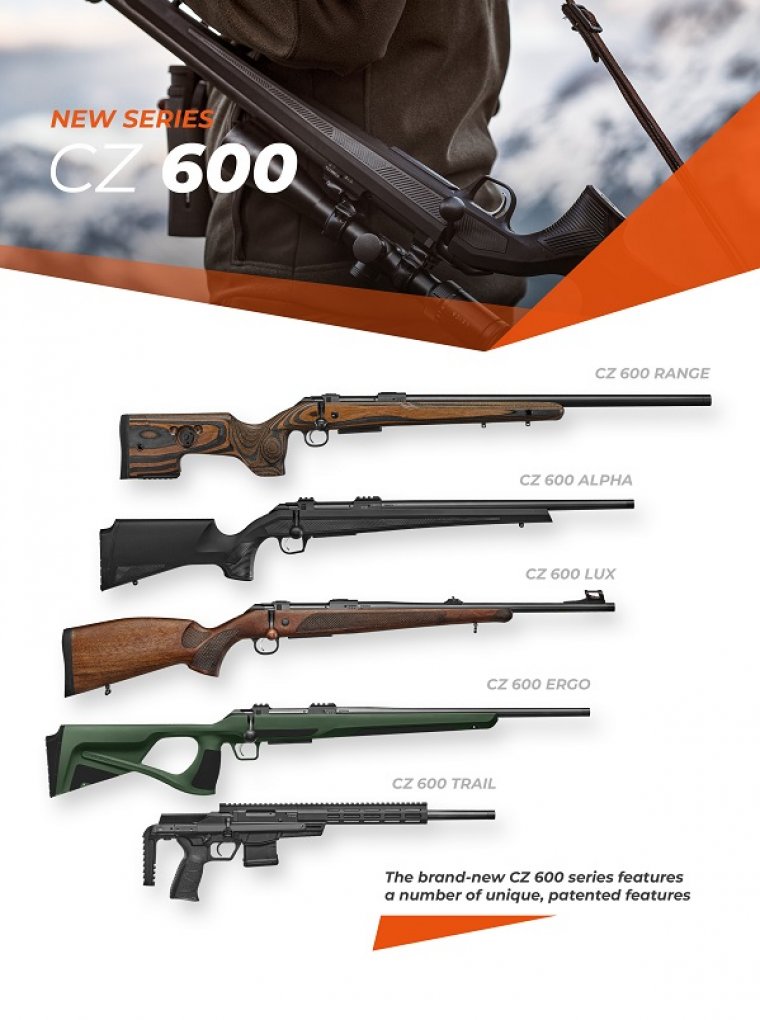 At the heart of the CZ 600 series is a patent-protected bolt that locks into the barrel and guarantees controlled feeding of cartridges in all firearm positions, and even in the most demanding situations. Other benefits include a patented, ergonomically positioned vertical safety with completely silent operation, an extremely reliable feeding system that allows users to select detachable or fixed magazine configuration, an extremely durable finish, and easy disassembly that does not require manipulation of the trigger.
Five models in the following calibers have been announced for 2022:
CZ 600 ALPHA - 223 Rem., 7.62×39, 224 Valkyrie, 308 Win., 6 Creedmore, 6.5 Creedmore, 6.5 PRC, 30-06 Sprg., 300 Win. Mag., 8x57 IS
CZ 600 LUX - 223 Rem., 308 Win., 8×57 IS, 30-06 Sprg., 300 Win. Mag.
CZ 600 ERGO - 223 Rem., 308 Win., 6.5 Creedmore, 30-06 Sprg., 300 Win. Mag., 8x57 IS
CZ 600 RANGE - 308 Win., 6 Creedmore
CZ 600 TRAIL - 223 Rem., 7.62×39
The ALPHA, LUX, and ERGO models are guaranteed to shoot sub-MOA at 100 meters for three shot groups, and even sub-0.75 MOA for five shot groups on the RANGE model (all using match-grade factory ammunition). These impressive results are due to the high-quality, cold hammer forged barrels produced with CZ technology, which are always optimized for the caliber and come with a heavy, semi-heavy or lightweight profile, depending on the intended use of each specific model - for hunting, sport or hobby. Making a significant contribution to its high accuracy is a completely new, patent-protected trigger mechanism with easy-to-adjust pull weight.
The modular design of the CZ 600 series allows users to easily change to a different caliber that's offered for a given size of the steel or durable aluminum receiver, or to a different barrel profile (limited by the stock design). After reassembling the barrel, retention of accuracy is guaranteed after the first cold shot.
The CZ 600 series will also be included in the successful CZ Configurator project, which is currently operating in four countries. Via the CZ Configurator, customers can create the rifle of their dreams, from the caliber and characteristics of the barrel to the type of trigger mechanism and interface for mounting optics. 
Our guns and products are distributed into more than 90 countries