Ceska zbrojovka at IWA 2022
6. 3. 2022
After three long years, exhibitors and the professional public have finally met once again at the IWA Outdoor Classics exhibition. The exhibition, which focuses on hunting, sport shooting, outdoor activities and safety, is held every year in the German city of Nuremberg. Unfortunately, the past two editions of the exhibition were cancelled due to the COVID-19 pandemic. Although the current geopolitical situation in 2022 is unusual, to say the least, the exhibition still managed to take place this year, bringing with it a long-awaited opportunity for face-to-face meetings.
Enormous interest in the CZ portfolio
CZ presented its extensive product portfolio at stand 7A-208, which also included product presentations from its sister companies Colt, Spuhr and 4M. Despite an overall lower number of visitors at the exhibition compared to previous years, the CZ stand was very popular and its products were constantly under siege. But it's no wonder. The range of CZ firearms is quite wide, so there was something for everyone.
Brand new centerfire rifles from the CZ 600 series were on display, together with models from the CZ 457 rimfire rifle series, which included this year's new CZ 457 LRP BLACK and CZ 457 MDT. Shotguns, which returned to the CZ range in 2021, were also at the stand.
Regarding small arms, visitors were greeted with the complete series of CZ P-10 striker-fired pistols in all sizes, from Full-size to Micro, together with modified OR (Optics-Ready) models with optics and SR (Suppressor-Ready) models with a threaded muzzle for mounting suppressors. For fans of more powerful pistol calibers, last year's new CZ P-10 F chambered in 45 AUTO was on display. The many polymer pistols on hand were further complemented by the CZ P-07 and CZ P-09 hammer-fired models. The all-steel pistols were represented by the popular CZ 75 SP-01 Shadow model, and last year's new release, the CZ 75 P-01 Steel Black.
Sport pistol fans were happy to see the undisputed leader in IPSC shooting – the CZ SHADOW 2, which included the OR modification with optics and the hand-fitted Orange version. Further enrichment was provided by the new CZ TS 2 series of sport specials that were introduced last year. This series consists of three models - the CZ TS 2 base model, upgraded CZ TS 2 RACING GREEN, and the top model in the range, the CZ TS 2 DEEP BRONZE.
Fans of tactical style firearms welcomed the presence of CZ SCORPION EVO 3 S1 carbines in both muzzle brake and faux-suppressor versions, as well as the CZ BREN 2 Ms chambered in 223 Rem. with 16" barrel, as well as the highly accurate CZ TSR with 16" barrel and chambered in 308 Win. All models on display were equipped with mounting hardware from sister brand SPUHR.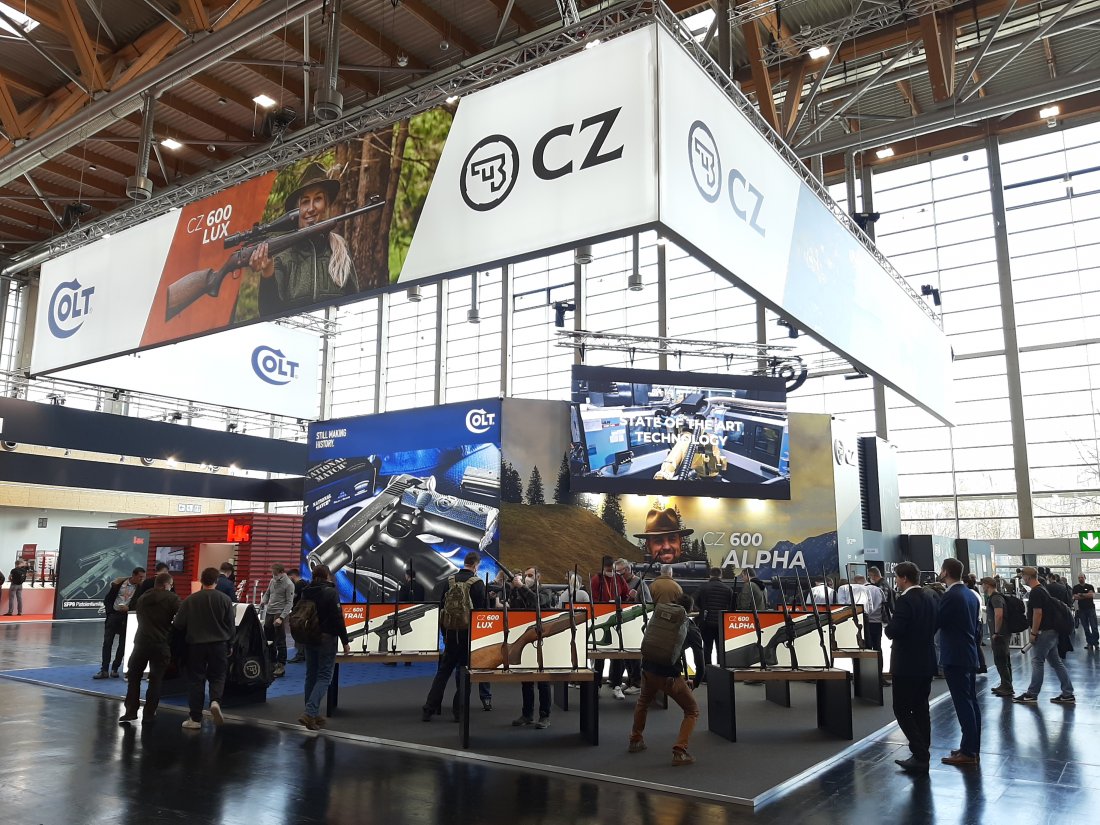 Special guests at the stand
In addition to the many products on display, CZ Product Managers, CZ presenters and two special guests were at the stand to speak with visitors. One of them was Eric Grauffel, 8-time IPSC World Champion and a prominent figure of the CZ Shooting Team, who answered questions about sport pistols and delighted fans with his presence. Another special guest was Matt Emmons, who is a world champion in rifle shooting and CZ brand ambassador, as well as the face of the newly introduced CZ 600 centerfire rifle series.
Online configuration of firearms
An interactive stand was also set-up for visitors to configure their firearm online via the CZ Configurator. As easy as placing your order at a fast-food restaurant, visitors clicked away to fully configure the firearm of their dreams. Through the use of the CZ Configurator, it is now possible for you to build and order a firearm in a total of 6 countries: Czech Republic, Slovakia, Germany, Poland, and newly available this year, Austria and France. But if the CZ Configurator interactive website is not yet available in your country, you can still try it out from anywhere in the world at www.czconfigurator.cz
CZ Press Conference
On the first day of the exhibition, CZ held a press conference for journalists that started with an introduction by CZ CEO Jan Zajic. Product Manager Ondrej Supka then presented new products in the long gun portfolio, where special attention was paid to rimfire rifles. Afterwards, Matt Emmons gave a presentation on the new CZ 600 centerfire rifle series. At the conclusion of the conference, Eric Grauffel presented the CZ TS 2 series of sport specials. Eric also shared the latest news about the joint project EG-CZ Academy, which included the start of construction for a shooting center in France and the launch of online shooting courses under his leadership.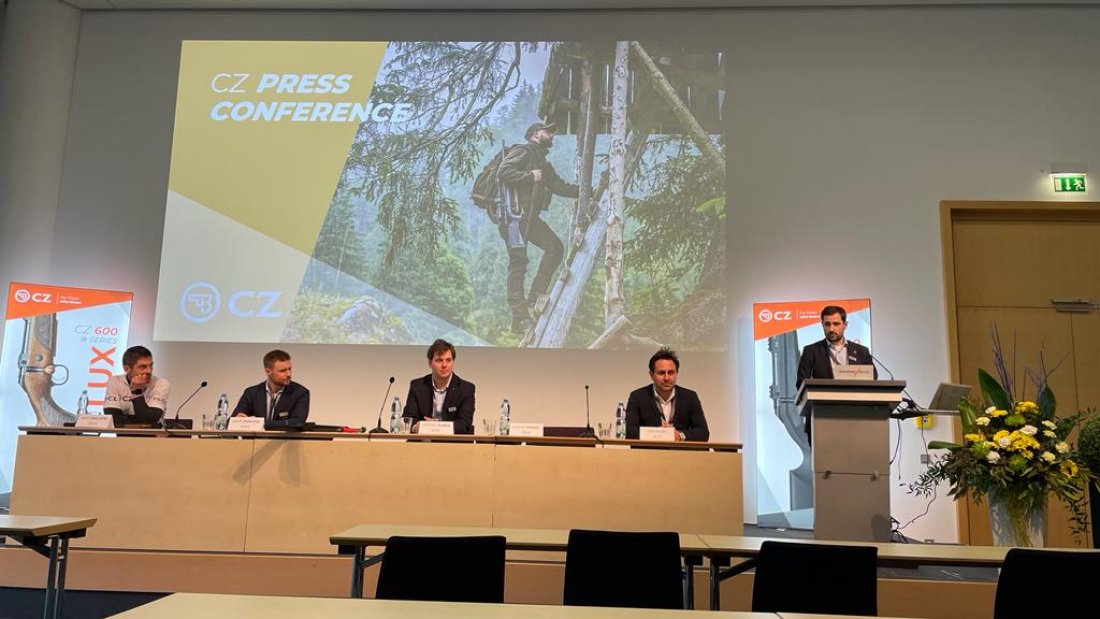 Importance of the exhibition for CZ
External circumstances led to a lower overall participation at the exhibition compared to previous editions, yet more than 19,500 visitors attended and 856 companies from 53 countries exhibited their products. CZ greatly appreciated the opportunity to personally meet visitors and represent the brand at IWA 2022. It was happy to present several of its new products, which were led by the CZ 600 centerfire rifle series and two new CZ 457 rimfire rifles, as well as several of last year's new products, such as the CZ TS 2 series of sport pistols, Optics-Ready and Suppressor-Ready versions of the CZ P-10 polymer pistols, shotguns and other products.
Extreme interest was shown in the CZ stand every day of the exhibition and it was always full of visitors, which was very much appreciated. CZ is already looking forward to the upcoming IWA 2023.
Our guns and products are distributed into more than 90 countries