A lightweight, combat proven single-shot firearm intended for the destruction of armoured targets, personnel and military ordnance situated in open terrain or field cover
The CZ 805 G1 grenade launcher can be used with a wide range of modern standardized grenades in 40×46 mm calibre as well as with non-lethal ammunition, thereby making it suitable for use by security forces. Advantages include simple design and easy function controls, absolute reliability in all climatic conditions, high accuracy at long distances, an option to change the folding direction of the barrel, and a folding trigger guard when shooting with gloves.   
The CZ 805 G1 grenade launcher may be used separately on its own carrier, designed and manufactured by Česká zbrojovka a.s., or attached under an assault rifle.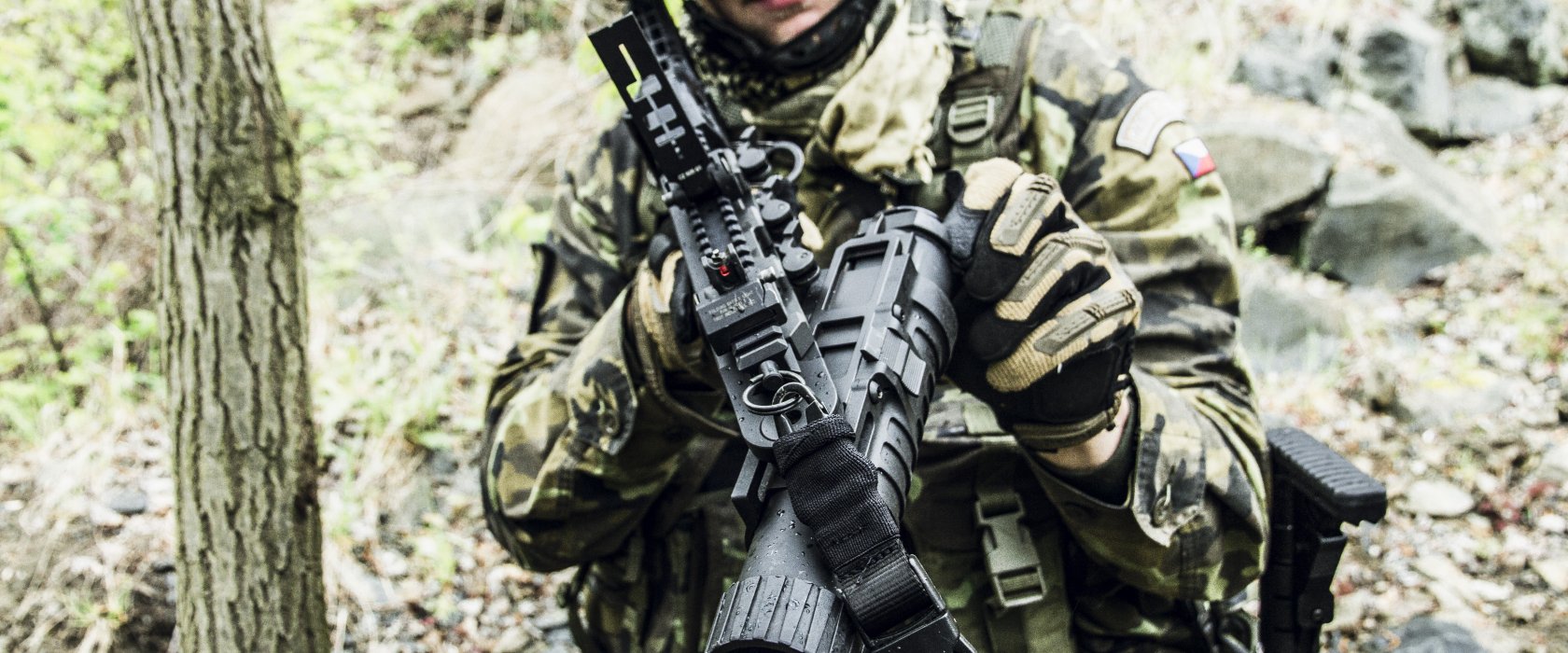 Main features CZ 805 G1
Side-tilting barrel
Allows comfortable loading and shooting with a wide range of 40 mm grenades without limiting their length.
Trigger guard that can be tilted to both sides
The tilting facilitates handling and allows comfortable firing even with gloves.
Barrel cap
The barrel cap for rough handling in the most severe conditions protects the muzzle from damage that could affect long-range firing accuracy.
Sliding manual trigger safety
The sliding manual trigger safety locks the firing and trigger mechanism of a loaded weapon.
Easy change of the barrel tilting direction
The firearm can be fully adjusted to both left-handed and right-handed shooters, ensuring maximum loading comfort.
Mounting rail according to MIL-STD-1913
The grenade launcher can be attached to any host weapon with a MIL-STD-1913 rail or a separate special carrier.
Separate carrier with a folding and removable shoulder stock
CZ 805 G1 can be placed in a backpack or trunk of a vehicle and used separately without installing it on a rifle. The carrier is fitted with a grip with replaceable backstraps and mounting rails according to MIL-STD-1913.
| | Barrel length | Caliber | Magazine capacity | Weight without magazine | Frame | Height with folded sights no magazine |
| --- | --- | --- | --- | --- | --- | --- |
| | 250 mm (10") | 40×46 | 1 | 1,55 ± 0,05 kg | Aluminium alloy 7075 T6 | 90 ± 5 mm |
Product Evaluation
There are currently no evaluations for this product.
Our guns and products are distributed into more than 90 countries